About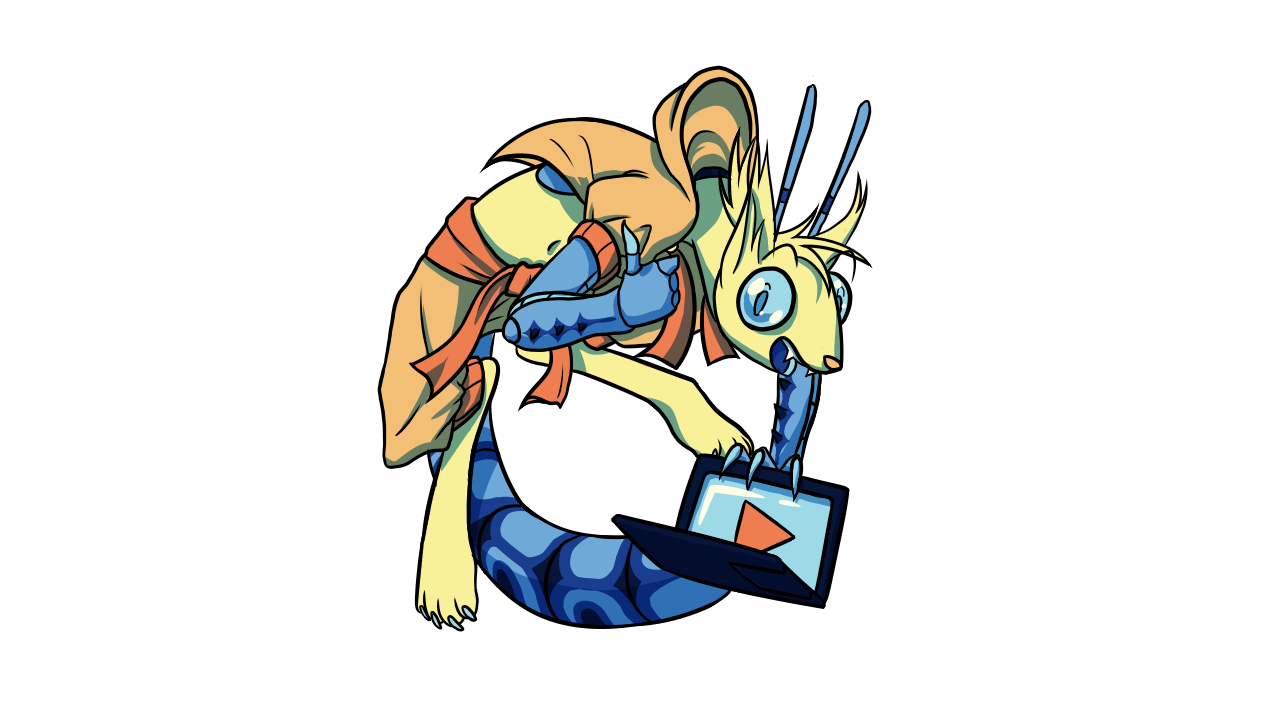 What is this place?
Animation Station is a review site for a lot of online animated shows you likely haven't heard of. I put a lot of effort into finding some of the most obscure content that the internet has to offer. None of this is intended as mockery or parody- I genuinely enjoy watching every animation that comes my way no matter what program it was made in, how bad it's voice acting is, or how unpracticed the artist is. Everyone who has tried animation knows just how much work it is. The fact that the creators of these shows felt so strongly about their ideas to put that amount of effort in and show it to the world is worthy of celebration on its own. As a result, all reviews here are pretty light hearted and contain only constructive critique sandwiched with a lot of compliments at worst. My goal is to uplift creators, encourage artists' to celebrate each others accomplishments (Even if their peers don't produce work that they like personally), and introduce people to little-known media. If you have any questions, feel free to check below!

What are you reviewing here?
Who are you?
How often do you do reviews?
What's up with this rating system?
Will you review this/my animation?
What WILL you review?
What's the weird cat thing?
Are you a furry?
Something on the site is broken!
How can I support you?
Who is this website for?
Do I need to worry about spoilers? Wasn't this site called something else?
What are you reviewing here?

Web animation! That is, animations made on the internet There are a lot more terms for stuff like this, such as "fanime", "web cartoon", "webimation", etc. I just selected "animation" in general because other terms are more restrictive. For example, 'fanime' generally only includes shows that are inspired by anime genres and art styles, and there are quite a few animations that don't fit that bill!
Who are you?

I go by Fallingfeather online, though my friends often call me Feefee, Feef, or FF. One of these days it's going to get shortened to just one F or even the vague opening of one's mouth, based on how that trend is going. I am a half English, half American girl living in the USA (EST), and I was born in the month of April in 1997. I realize that's pretty vague, but I prefer to maintain my privacy outside of my circle of personal friends. I love art, animation, the color lavender, long walks, nature, biology, genetics, garlic bread, stories with convoluted plots and ensemble casts, and rambling about things that nobody's heard of to my friends. Now you get to listen to those rambles too! How lucky you are! I made this site because I wanted other people to be able to see and know about these shows that are usually not on anyone's radar, and to possibly expand those shows audiences while encouraging their creators to keep going.
How often do you do reviews?

Whenever I have spare time! I am a student in college and have work outside of this site, so updates for it tend to be kind of low priority. I love watching webtoons and writing reviews, don't get me wrong! But there's no set schedule for it, and asking me to hurry up is probably only going to make it take even longer. (So please don't do that.)
What's up with this rating system?

If you've already been to the 'reviews' page, you'll see that each animation has a title, a description, a screenshot (which you can mouse over to see a different screenshot! Fancy, right?), and a bunch of little descriptors that may or may not make sense at first glance. I determine them as follows:

Genre: You probably know what this is already. This includes your classic genres such as action, romance, fantasy, adventure, sci-fi, mystery, etc. However, it also includes some that are pretty specific to webtoons, such as wolves, cats, magical girls, shoujo, stick figures, etc. If you're wondering how "wolf" is a genre, well... considering how many in this genre I have on my list, you'll find out.

Audience: Ranges from Kids to Mature. Who is the intended audience? Is it a good idea to show these videos to kids? Some shows can have intentionally cute art styles, but mature subject matter. Just because something is animated doesn't mean it's appropriate for children!

Inclusion: Does this show have good female characters that pass the Bechdel Test (two named female characters that talk at least once about something other than a man) at minimum? Does it make an effort to include minorities, disabled individuals, and LGBTQ+ orientations? Is it easy for disabled people to watch (is there closed captioning)? This might feel like an extraneous category to some, but for many it is important. It can be hard for folks to find shows that include people like them, or to find shows that they are able to watch. This rating is ranked with A-B-C-D-F categorization, from "Oh wow they got this RIGHT on the money, fantastic job." with A, to "actively insulting the community in question" with F. C is middle of the road. a grade that says "there aren't any marginal groups represented in here, but it's not insulting anyone either." Most range from B-D as I don't expect shows made casually with such short episode lengths to be able to fit a lot of this in or even think about it. Still, a little representation goes a long way.

Mood: Is the show Fun? Somber? Adventurous? Surreal? Dramatic? What feelings is the show trying to evoke in you? You might think this is similar to genre, but there's a pretty big difference between a "fun" mystery and a "dark" mystery, and people will probably want to know about that in advance.

Status: What is the show's activity right now? "Active" means that the creator is still actively producing episodes (even if that update schedule is extremely infrequent- I've seen some shows go years between updates with the occasional notice from the creator to let folks know that they're still kicking.) "Completed" means that the show has all of the episodes it will ever have- it's all done and tells a complete story! "Hiatus" means that the creator is on a break and not producing episodes for the time being. "Cancelled" means that the creator has stopped producing episodes and does not intend to come back to the show any time soon. The line between "hiatus" and "cancelled" is pretty fuzzy and can change depending on how a creator phrased their messages to the audience, how long it's been since the last update (a show that hasn't gotten any updates in a decade... is probably cancelled), etc. I try to make the call as best I can, but sometimes I'll get it wrong. Due to the nature of webtoons, expect to see "hiatus" and "cancelled" statuses most often.

Feef Fave: The ones I personally like best! This is the most biased rating, and the one that's the least indicative of a webtoon's quality. Feef faves are the shows that I find personally inspiring or interesting. They are ones that I consider myself a fan of in a more specific and personal sense as opposed to my love of webtoons in general. If a show you really like isn't a Feef Fave, that is by no means an indicator that the show isn't good, well written, well drawn, well voiced or well animated! It might just not appeal to my personal tastes. For example, I personally am bored to tears by period pieces- that doesn't mean that Pride and Prejudice isn't good. Simultaneously, there are some Feef faves that most people would consider absolutely terrible but are special to me for some personal reason or another. "Good" is a highly subjective term!

In addition to these ratings, which are visible on the review index, each individual review has these:

Best Quality: For each review, I explain what part of the show I consider to be 'best'. Some shows have a fantastic suite of voice actors that really click together and make each episode a delight to listen to. Some shows have breathtaking backgrounds that I could stare at forever. Some shows have smooth, eyecatching animation that I play on repeat to study. Some shows have a plot so good it keeps me up at night thinking about it. So on and so forth!

Favorite Character: This one's kind of silly but hey, why not? I usually say which character in the show is my favorite and give an explanation as to why.


Will you review this/my animation?

Found a series you think might work well on this site that I may not have heard of? Email me! (animationstation@gmail.com) I'd be happy to check it out… provided you aren't the creator of the show! Sorry, but I get stage fright knowing that the very person who made the show is breathing down my neck waiting for a review, which may have critiques of their work that they might not like or agree with. Get a friend to ask me or something. Also, I don't create these on any sort of schedule or in any particular order, so it might be a while until the review shows up. You can see a list of shows that I have heard of and most likely intend to review here. If the show is already on the list, please don't send it again! I'll get to it when I get to it, and the anxiety from getting asked and pestered repeatedly will probably cause me to procrastinate in reviewing it for even longer. Also, just because a show is on the list, doesn't mean I've watched it yet. There's literally hundreds of webtoons on there, and I don't have each show memorized.
What WILL you review?

First of all, I accept everything on a case by case basis. If I don't want to review something... I won't. This is my personal website and I can reject anything for any reason. I try not to, but sometimes I come across something that just makes me go "Oof. Eesh. No." I'm not going to pretend to be a completely unbiased judge on a website that I made for me, and I mean that in the nicest way possible, lol. If I say I'm not putting something on my list, then it's not going on the list and I don't have to explain myself. I probably will! But I don't have to.

I will only review animations that tell all or part of a story. That includes incomplete episodes and self-contained stories in one episode. However, I may reject trailers that don't say a lot about the story, plot summary videos, openings/endings, or audition videos. Trailers that are really well animated and/or have a lot of content and plot may be accepted.

While I may review one-shot stories or movies, I prefer to review shows with multiple episodes. Doesn't mean I'll NEVER review one-shots or short films, but expect to see less of them here. I also really prefer things that are off the beaten path, so short films from really well known colleges like Gobelins, Calarts, etc., are really low on my list of priorities.

I'll also accept anything with still images that still has a large amount of animation in it. Examples of this include independent visual novels with a large number of animated cutscenes such as Epithet Erased, or webcomics with a large number of animations such as Homestuck, Spidrelli, and Honey Crab. Music videos or PMVs are also taken on a case by case basis.

I will only review animations that I can comprehend. This means I'll only review animations in English, and others that have English subtitles. It's really hard to give commentary on a story when you can't tell what anyone is saying! The same goes for if a story is technically in English, but is so incomprehensible in terms of plot that I just can't think of anything to say about it.

It'll probably take me a while to get to more popular shows. While they definitely deserve a place on here, they don't really need the extra publicity. Lots of people know what Homestar Runner and Charlie the Unicorn are- I can afford to take some time to come around to them.

Similarly, shows that are made by larger studios and are only posted online will also take me a long time to get to, if I get to them at all. Red Vs. Blue is on Netflix now- I'm not sure it really needs a review here. Furthermore, the more people that were working on it, the more effort I expect to be put into it. As a result, I'll probably end up being harsher and more critical on such projects.

I will not be reviewing cartoons that blatantly encourage violence, dangerous ideas and hate speech against real life groups such as people of color, various religions, people with disabilities, women, LGBTQ+ individuals, etc.

I will only review original content, or fan content that is heavily derived from the original idea. For example, Care Bear Stars is a magical girl series that includes care bears as characters, but has its own plot and lore, and is animated without using any clips from any care bears TV shows. I would review it. Dragon Ball Z Abridged on the other hand, while hilarious, is pretty much the plot of Dragon Ball Z truncated and displayed in a more silly fashion, using video clips from the original show with no newly drawn animation. I won't be reviewing it here. SSS Warrior Cats would be accepted because even though it's an adaptation of a pre-existing book series, it features completely unique animation and adjustments from the original plot to adapt the story to animation. I realize this is a pretty subjective rule, so feel free to submit fan animations even if you aren't sure.

Obviously, all of these rules are applied on a case by case basis, and because it's my website and I can do what I want, I reserve the right to ignore any of these at any time. But I probably won't, and don't ask me to.


What's the weird cat thing?

That's Feef! She's the mascot for this website and is pretty much the face I use to represent myself on the internet. I like bugs, I like cats, I like her color scheme, and even though her head looks more like a weasel, I like drawing it like that. She's just fun!
Are you a furry?

(I see other people that I follow get this a lot, so I figure I'd better answer it up front.) I don't consider myself to be! I don't really keep up with that community. Instead, I was raised in the era of the internet where your parents told you to never give out your real name or face online. That habit has stuck to say the least, and having a convenient mascot that I can use as a false persona for privacy's sake is useful and lets me feel comfortable. Also, she's a lot more fun to draw than I am.
Something on the site is broken!

That's not a question, but okay. If it's something about the website such as a page that's not working and giving a 404 error, some code that's not working properly (like an image that's overlapping a review's text, a slideshow where the buttons have decided to scatter themselves across the page, broken images, etc.), or any other issues, feel free to contact me and let me know. I'll fix it as quickly as possible, or remove it entirely if I can't figure it out. I am an artist, not a website coder, so a lot of this stuff is still new, confusing, and prone to error. Minor issues I'll probably just ignore (such as the navigation buttons being spaced differently in review pages as opposed to index pages. No clue why that is, haven't been able to fix it, bandaid fixes make it look even worse). If it's something even more minor, such as typos, repeated words, or just horrible grammar and phrasing, I do want to know... but maybe try to collect those issues all at once in one email instead of sending me an individual message for each "the" I accidentally wrote as "teh". I'm also not TOO picky with grammar and tend to speak in a pretty casual tone, so if I don't think a correction of grammar is stricly necessary, I'll probably leave it alone. I should also note- this website is NOT designed for mobile under any circumstances. I know it looks terrible on mobile. But unfortunately, designing and maintaining two versions of the same website would take more energy than I really have.

If it's a missing or broken video link in a review, feel free to contact me at animationstation@gmail.com. If it turns out that the video has been moved, I'd be happy to find it again and fix it. As sad as it is though, sometimes people get embarrassed by their old content or harrassed about it and take down videos for good. Alternatively, a lot of videos use copyrighted content such as music and may be taken down due to a copyright claim. If that's the case, then I'm afraid that the review and any screenshots I took of it are the only evidence it existed. I only very rarely download videos (though I hope to change this in the future once I can get a decent sized flash drive or external hard drive) and as a result I most likely do not have any copies of the videos. If this changes, I'll be sure to let everyone know! As a final note though, if a creator contacts me about a video I happen to have that they'd rather be taken down and not distributed anymore, I WILL respect the creator's wishes, even if their audience would prefer the video stays up.
How can I support you?

That's so sweet of you to ask! I have a patreon here where you can opt in to donate any amount of money per month. This patreon is mostly for my art and animations, however. Animation Station is not my main creative focus, and it would feel strange if I made money off of reviewing other people's hard work. (Not that I have anything against people who review stuff for a living, but they usually do it for big productions such as movies and video games. My corner of the internet is pretty humble in comparison!) I have considered opening up patreon exclusive polls on which show I review next, but that would be the extent of any Animation Station related content. Pretty much, feel free to chip in some money if you want to support me! As a starving college student, I definitely appreciate it.
Who is this website for?

That's a good question! I'm going to say that anyone younger than 18 should probably have a parent check the site out before reading through it. I don't consider myself to have a particularly crass sense of humor, I can't think of a situation that would make me swear in a review (though I suppose I can't guarantee that it'll never happen), and I also don't review explicitly pornographic shows. That being said though, a lot of these shows ARE intended for adults only, and thus require discussion of the sort of content you'd see in such a show. I'm not going to avoid reviewing mature shows, so if you're a minor you should get a parent's approval, and I'm going to be tentatively rating my site 18+. Sorry!
Do I need to worry about spoilers?

Yes. While I don't expect people to have seen all of these shows before reading the reviews, by the nature of them being reviews and critiques, I am going to have to discuss plot points. This is especially pertinent for shows that are already completed, as I like to discuss character arcs, foreshadowing, and symbolism. I'm not going to go out of my way to ruin the show for people, but I'm not going to avoid talking about important events in it either. If you're worried about spoilers, I'd advise sticking with the short descriptions and ratings to decide whether or not you're interested in a show before watching it, and THEN reading the review.
Wasn't this site called something else?

From 2019 to May 2022, this website was called Webtoon Well. I changed it because of the webcomics hosting service called Webtoon. At first I was confident that people would be able to differentiate between the two (after all, who calls webcomics "cartoons" anyway? They're comics!), but it quickly became clear that that... wasn't the case. I definitely didn't want people to think I was reviewing webcomics from a specific website, so I changed it!